The Best Beaches in West Cornwall
Date posted: 29 April 2023
At Beachside Holiday Park in Hayle, we enjoy a superb location above one of the best beaches in the UK and beyond. Stretching for miles, the golden sands of St Ives Bay can be accessed via a direct path from our holiday accommodation and campsite, offering a huge array of things to see and do throughout the year. That said, the fun doesn't stop there. If you can't wait to satisfy your lust for adventure, you can make the most of even more stunning beaches just a stone's throw from us. With some of the best beaches in West Cornwall on our doorstep, we truly are a haven perfect for sandy-toed and tousled-haired beach-lovers of all ages.
To get you started, here are just some of the best beaches in West Cornwall nearby.
Gwithian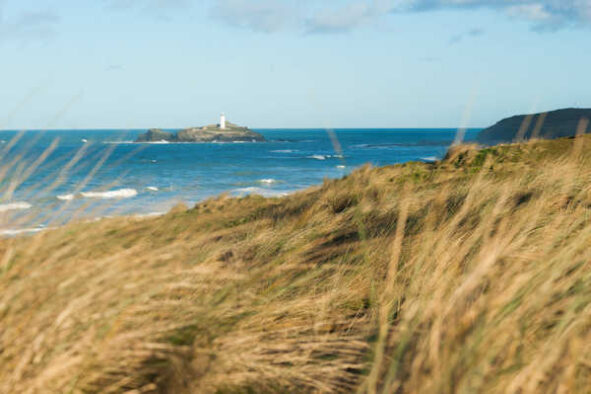 Of course, no list of the best beaches in West Cornwall would be complete without mentioning Gwithian. Situated at the foot of our holiday park in Hayle, the gorgeous Gwithian resides within St Ives Bay and adjoins neighbouring Godrevy. Extending for miles, it is one of the longest beaches in the county and absolutely perfect for days by the shore, whether you're spread-eagled on a towel with your latest page-turner or running in and out of the waves for a dose of Vitamin Sea. For guests of our holiday park, we have a fantastic range of facilities onsite that you can make the most of, including a family-friendly restaurant and bar and games room. Meanwhile, there are also additional amenities at various spots along the beach too, including surf schools, cafés and toilets. Ideal for families, lifeguards are on duty here from late April to early October.
Porthcurno Beach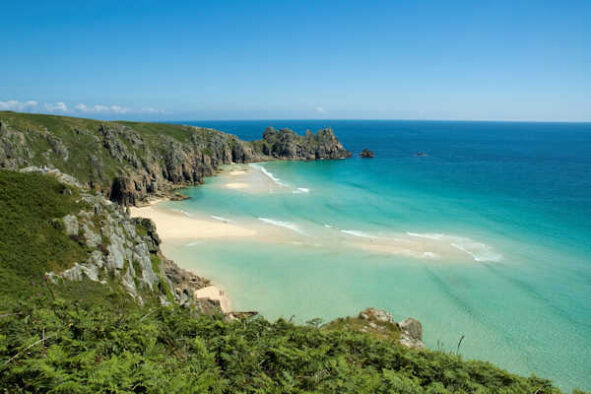 A well-known name amongst those in the know, Porthcurno is regularly hailed as one of the most beautiful beaches in not just Cornwall, but Europe too. Not far from Penzance, this West Cornwall gem sits below one of the top places to visit in Cornwall, the world-famous Minack Theatre, and sets a jaw-dropping background for days on the coast. If you haven't been before, please be aware that this is not the easiest beach to get down to! The cliff path down to the beach is long and steep, and doesn't get much easier on the way back up! That said, if you can manage it, you'll be rewarded with some of the most beautiful scenery imaginable, including powder-fine sands and turquoise seas. Remember to bring plenty of snacks, water and suncream with you, as there are no facilities available on this beach.
Sennen Cove Beach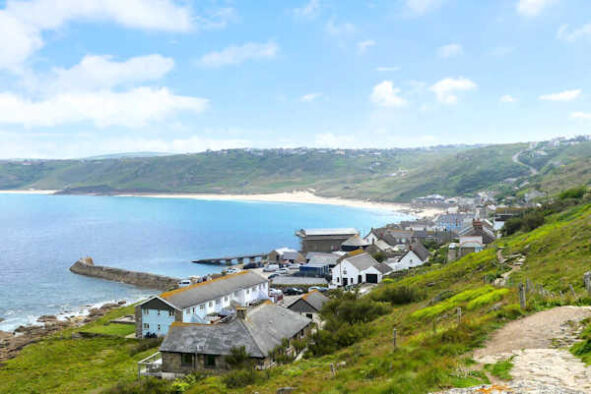 Sennen Cove is home to an idyllic sandy beach, just around the corner from Land's End. A dreamy destination throughout the year, Sennen is only a 30-minute drive from us in Hayle and is well worth a visit if you've never been before. Particularly popular with surfers and bodyboarders, Sennen Cove is regularly blessed with great waves in the shoulder months when the waves pick up. If you're feeling peckish, there are some good restaurants and eateries in walking distance from Sennen Cove and there are facilities available in the village too. And, if you feel like stretching your legs, you can easily pick up the South West Coast Path from the top of the beach here; a ramble of around 1.5 miles will take you all the way to Land's End, where you can enjoy stunning views along the Penwith Heritage Coast and out to sea.
Marazion Beach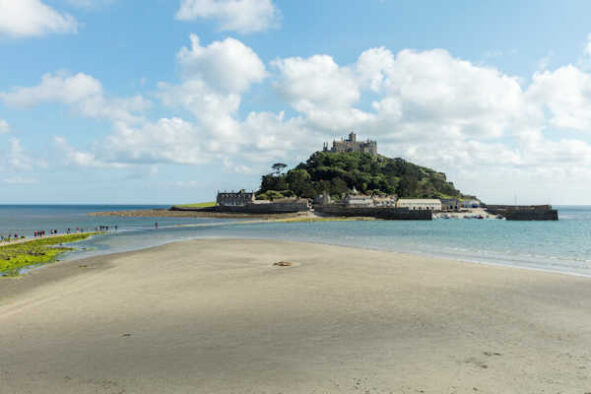 The village of Marazion in West Cornwall is home to a long stretch of sand that gently slopes downwards to reach a sapphire sea. Most notably, the village's beach is especially well-known for its location at the foot of one of Cornwall's most recognisable landmarks – the magical St Michael's Mount. A fairy-tale castle set high atop a hummocky island, this incredible castle is surrounded by a miniature village and is still used as a family home to this day. For a wonderful day out in Cornwall, we recommend heading to Marazion and walking along either the beach or the village's flat, seafront prom (great for pushchairs and wheelchairs). If you'd like to, you can even walk out to St Michael's Mount along a cobbled causeway when the tide is out – just make sure you know what the tides are doing to make sure you don't get caught out!
Porthmeor Beach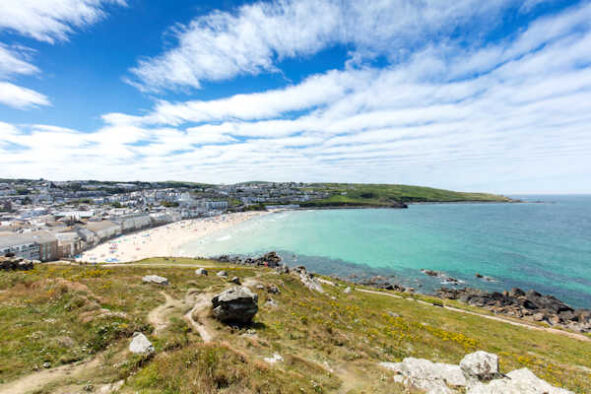 Just down the road from us at Beachside Holiday Park in Hayle is the picture-postcard fishing town of St Ives. Recognised for its quality of light, colourful fisherman's cottages and amazing beaches that have made it popular with artists for years, it is one of the most famous places in Cornwall. Peppered with a number of gorgeous beaches and coves, St Ives has lots of choice when it comes to beach days, but we particularly like Porthmeor Beach. Set in front of the Tate St Ives and just yards from the town centre's bustling streets lined with shops, cafés and restaurants, it offers something for everyone. It was also awarded the prestigious Blue Flag Award in 2022, in recognition of its great water quality and safety, making it an ideal choice for beach days with the family.
Beachside Holiday Park, Hayle
If you can't wait to get out and explore the coastline of West Cornwall, make sure you add some of these beautiful beaches to your holiday itinerary for year-round fun. And, if you're looking for the perfect base to enjoy your holiday, take a look at our superb holiday accommodation by the sea. A family-run, dog-free holiday park in Hayle, we pride ourselves on creating a safe, relaxing environment for couples and families and offer a wide range of places to stay – from seafront lodges to holiday apartments to caravan and camping pitches and more.